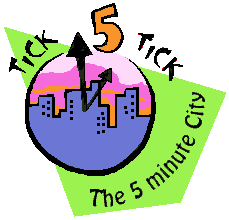 Some days you want it and you want it fast, right? Yep, I understand, and I won't get offended if you can't read every single word of every story I write... heck, these are busy times! For that reason, I've come up with The 5 minute city.
While I don't expect you to visit ANY city in five minutes, no matter how small, I can certainly tell you about it in the five minutes it will take you to read my thumbnail sketch. What will you find here? Well, the quick 'n dirty on where to stay, where to eat and what to do. Special treats of a town or trail? That, too. Some days you just don't need to know everything -- a few pearls of wisdom will do. And if you do find yourself with a bit of time on your hands, savor the stories and photos on the site or try your hand at one of the quizzes.
The 5 minute city is designed to give you essential destination information in the time it takes you to sip that morning cup a joe. It will take you a lot longer to climb up Yosemite's Half Dome, but trust me, I can tell you all about it in five quick minutes.
The Rat Pack may be gone but the world has moved in
The Road Sage plays tourist in her own home town
Toronto celebrates the old while ringing in the new -- and everyone is so doggone nice about it, too
The Chicago Auto Show is one of many good reasons to visit the Windy City -- even in February!
The oldest Hawaiian island is still the most unspoiled
Vineyards, vintners and plenty o'sunshine -- cheers, indeed
The L.A. scene has to be seen to be believed
San Diego is sun city in the southland, a sparkling (and sporting) paradise
The Arizona desert is the perfect place to ease your cares away -- even in July
Chef Patrick Lambert's cooking is one of the best reasons to come to Taos
Santa Fe is meant to be savored slowly and on foot
This grand expanse is colorful, big and begging to be photographed...camera ready? and don't forget your binoculars!
Colorful rocks and terrific trails that will inspire you to new heights
It's not just the lake that's a big deal in Salt Lake City
The Emerald City is the land of good eats
The Oregon Country Fair is a colorful place -- green, too
It's quaint, it's cute -- and it's a historical landmark
Cruising Highway One on the Fourth
Can big kids enjoy Disney, too? Our dynamic duo puts the Mouse House to the test
San Diego's castle by the sea is an experience everyone should savor
Two women on a madcap jaunt of the town that Liberace once ruled
Mexico City is a bit crowded, but that didn't stop our intrepid trio
email me now!
return to top
roadsage home